Menu
4 Ways To Decorate With 3D Wood Maps | Nautical Wood Maps
Maps are popular decorations for interior spaces. Whether you want to display your native region or current location, maps interest the occupants of a home or office and visitors alike. Two-dimensional maps have long been mounted on walls, and stylized cartography doubles as art. A three-dimensional map presents the opportunity to have a more immersive geographical experience. Here are four ways to display detailed and strikingly colored 3D wood maps in a residence or workplace.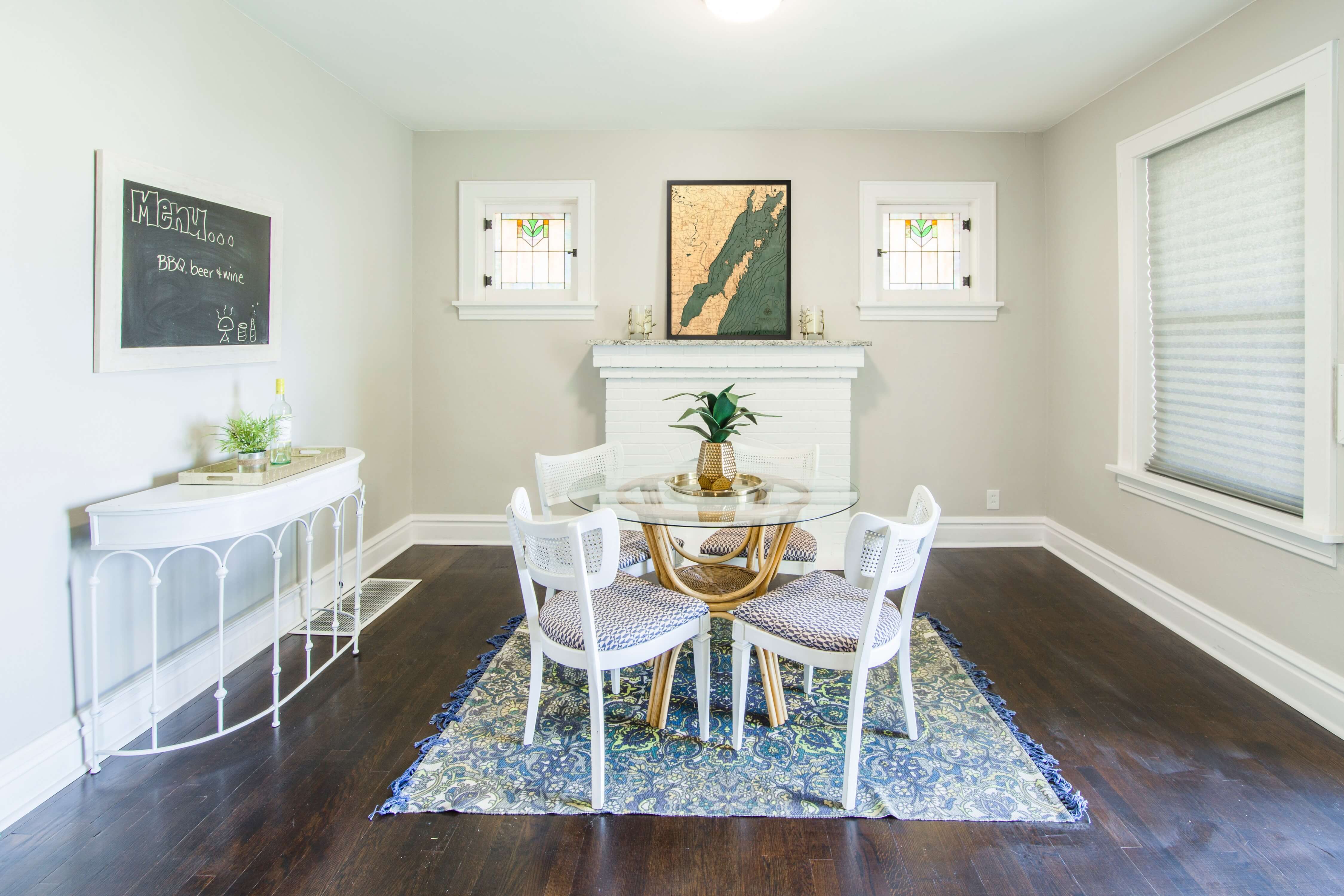 Exhibit a Wood Map on a Mantle
Wooden maps are made by laser cutting, layering and etching natural Baltic Birch wood. These maps represent elevation based on surface topographical and underwater bathymetric data. A wooden map can be an unexpected centerpiece in a room, particularly when displayed over a hearth or mantle.
The layout of an interior space with a mantle feature, which is often paired with a functional or ornamental fireplace, directs attention and foot traffic toward any decor displayed in this prominent location. 3D wood maps mounted on walls in these areas should be readily visible to people who enter the room. The centralized location of a hearth can be used to invite guests to advance and admire the beauty and detail of a wooden map. A 3D map will tend to draw visitors closer for a more careful inspection and can serve as a fantastic conversation piece.
If you plan to situate a map over a fireplace, it is important to allow sufficient clearance. Interior design specialists and fire safety experts agree that the ideal height to hang art or a wood map situates the bottom of the picture or chart about 3 to 6 inches above the top of the mantle. You should also factor in the size of a 3D wooden map you plan to place in this location. Depending on the size of a room and hearth feature, you may prefer a larger map size, such as a 24.5" x 31" x 2" map, to display in the center. If you plan to surround a wood map with other decor, it is possible to show off a map of any size near a fireplace.
Mount 3D Wood Maps on Walls
Wall mounting is another popular option for displaying a map anywhere in a home or workplace. Consider putting a map on a wall in a living room, dining room, bedroom, hallway or staircase. Interior decorators recommend hanging wall decorations at about the eye height of an average person. Most occupants and guests can easily view a detailed, laser cut and etched map mounted at this level.
There are several considerations to bear in mind when mounting 3D wood maps on walls. If the wall where you plan to display a map is also home to fixtures or furniture, you may want to leave about a foot of clearance space. This particularly important if you plan to mount a map above a couch, chair or other furniture. Make sure that a map is securely mounted high enough to be out of the way of the movement of occupants or guests while being low enough that the dimensional details and etched design are visible.
Map size may also play a major part in determining the best display location. Large maps have enough visual weight to stand alone, while smaller maps may benefit from being arranged with three or four pictures or as part of a gallery-style presentation. For the best effect, you might consider surrounding a map with photographs taken in the area.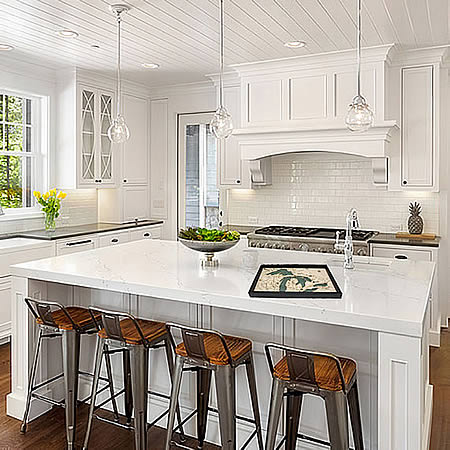 Present a 3D Wood Map on a Surface
Wood maps may be available in a 13" x 20" x 2" serving tray design. This presentation is perfect for maps that will be set out on a coffee table, counter, desk or any other surface. Serving tray maps can also be wall mounted. These designs have a deeper frame and are protected by clear plexiglass.
You can determine the best place to show off a 3D wooden map by factoring in the dimensions. Presenting a 3D map on a flat surface can make it easier to inspect. When any map is laid flat, it will take up a considerable amount of space. If this is the desired effect, a wood map can be a perfect feature to add a finishing touch to an interior design. Surfaces used for other functions may not be the best place to show off a wooden map.
Tray-size maps may feature handles for safer handling with less of a risk of damaging the layered design of the map surface. 3D maps made of wood also depict topographic elevations, points of interest on land, water features and underwater bathymetric levels. The details of these maps can be appreciated when laid flat or wall-mounted, whether a map fits in a small tray size or is a larger chart.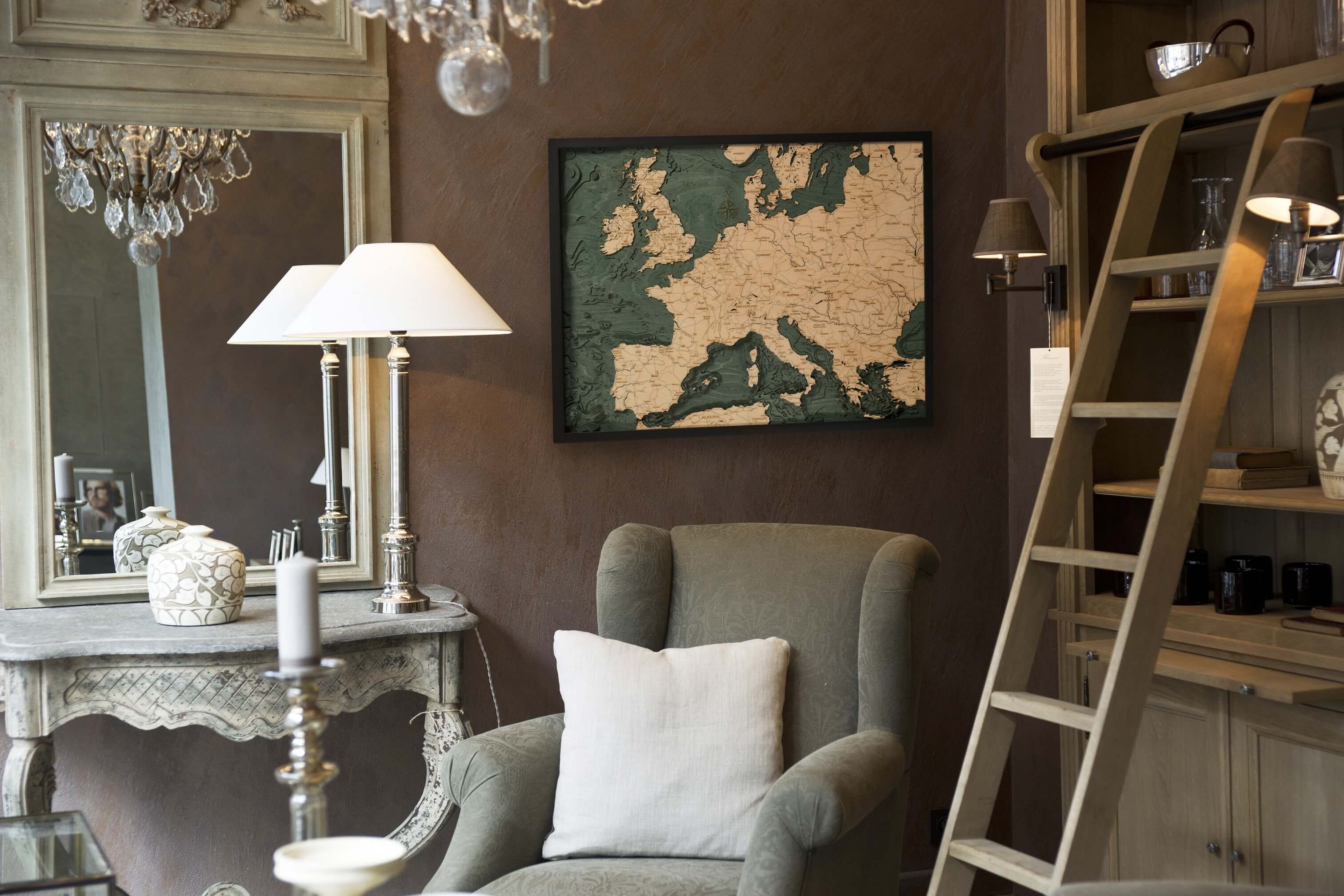 Include 3D Wood Maps in a Display
One of the best ways to subtly present a 3D wood map is to situate it within a display cabinet or shelving. Map size is even more important when it comes to fitting a map within a limited amount of space. Measure ahead of time and be sure to leave room around the map to make its appearance pop.
The unique features of a 3D map displayed in a recessed position may not be as readily apparent as a wall-mounted map. You may want to select a shelf that is highly visible or lit to make the layers of a wooden map more apparent to observers. A map included in a cabinet or shelf display can complement books and other knickknacks.
Factor in the features of a particular room or design to determine the best place to display 3D wood maps. The size of a wooden map may also determine whether a chart will be shown to advantage as the centerpiece of a room or in a supplementary location. These approaches to interior design with wooden maps are helpful for decorating either home or office.