Menu
Complete Guide to the Outer Banks
North Carolinians and other nearby state residents have long flocked to the Outer Banks (OBX) as a beautiful staycation getaway to relax and recharge. The so-called "Outer Banks" actually refers to a series of barrier islands off the Atlantic Coast of northern Virginia and North Carolina; from north to south the main islands are Northern Beaches, Roanoke Island, and Hatteras Island. Each island and their unique towns have their own vibe and personality, offering activities as varied as diving, dune boarding, and wild horse spotting. The sheer length of the stretch of islands necessarily means that there are over a hundred miles of beaches, varying in their landscape from traditional sandy beach to rolling dunes. Much of the land mass is only a couple of miles wide and as such the composition is constantly changing as extreme weather rolls in, closing some inlets and opening new ones.
The Outer Banks has found new popularity recently with the success of the new show on Netflix (aptly named 'Outer Banks'). Reality shows like Wicked Tuna: Outer Banks and enchanting movies such as Nights in Rodanthe have all done a lot in past and recent years to entrench these islands on many people's vacation bucket lists over the years. While we continue to navigate a world that doesn't allow for air travel quite as easily, if you're on the East Coast, this may be the perfect time to cross the OBX off that list as it is in easy drivable distance.
Let's explore the Outer Banks a little bit and give you some ideas for where to visit, what to do, and where to eat when you head out on your trip!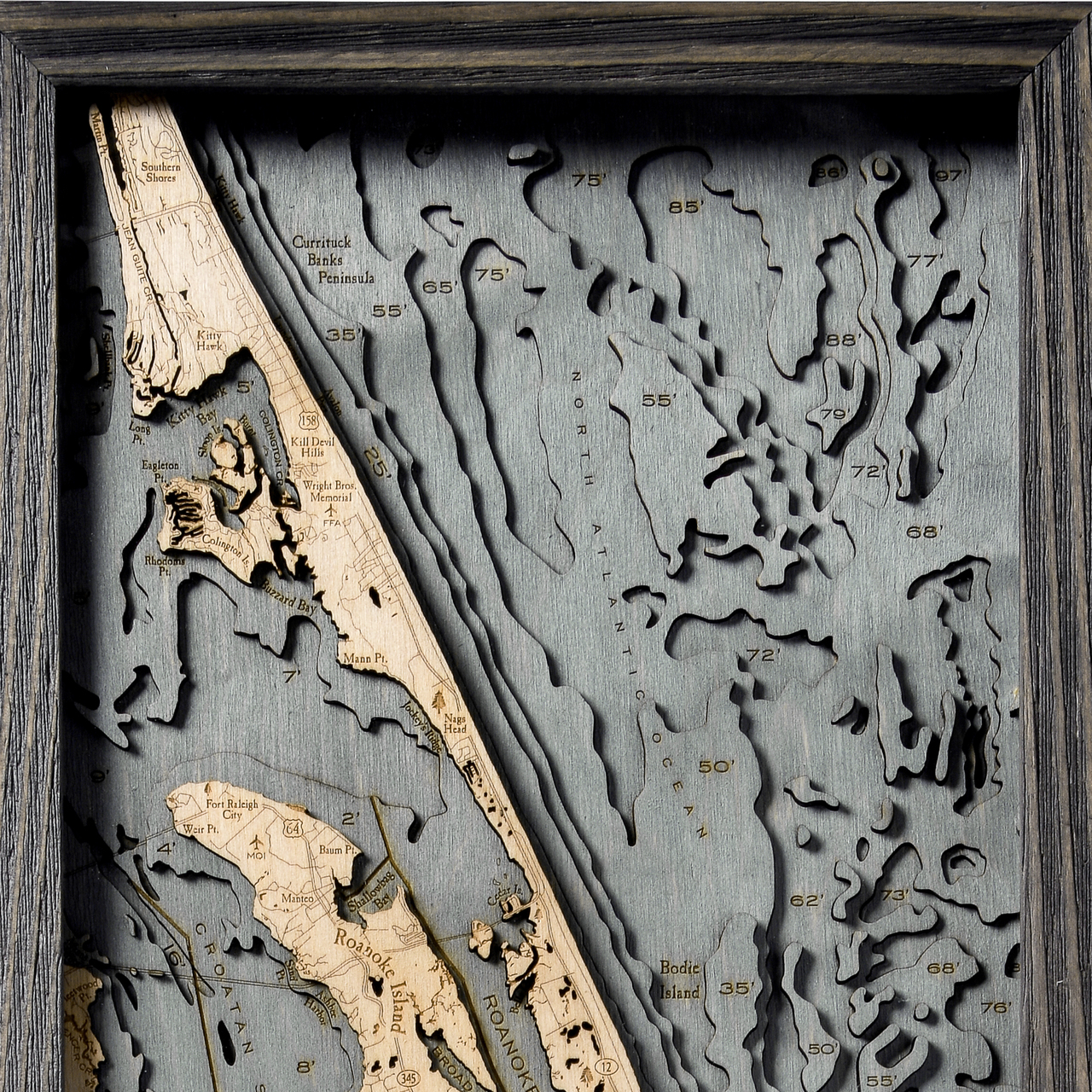 Northern Beaches
Generally speaking, when referring to Northern Beaches people are referring to the towns of Duck, Southern Shores, Kitty Hawk, Kill Devil Hills, and Nags Head. You have likely heard of a lot of these places and they all play host to incredible beaches, hotels, and vacation home rentals. Its biggest claim to fame is being the location of the Wright Brothers first flight and incredible, massive living sand dunes.
Duck - Named for, you guessed it, the massive abundance of ducks and other waterfowl in the area! The Duck Boardwalk and Duck Town Park are must-visit attractions in town. The Boardwalk offers waterfront boutiques and dining, while the park is 11 acres of swamp, forest, water views and lush fields all connected with winding walking trails. For a vacation treat we recommend dining at The Blue Point Restaurant, billed as the Outer Banks original farm-to-table eatery and one of the best restaurants on the islands. Are you traveling with a pet? The beach in Duck is well known to be one of the most pet-friendly beaches in the country, where your four-legged friend can run free on the sand and in the water.
Southern Shores - Only 4 miles long and a single mile wide, Southern Shores is small but packs a punch with the beauty of a wealth of untouched landscape. It spans from the Atlantic Ocean to Currituck Sound and Ginguite Creek and is well known for its amazing real estate! Head to Steamers for awesome seafood with a view, or get it to-go and eat it right on the beach.
Kitty Hawk - Kitty Hawk is a highly recognizable name in the Outer Banks and there is still no consensus on where the name came from! The beaches of Kitty Hawk play host to awesome waves thanks to the consistent winds, making it a great place to surf, hang glide and parasail. There are several fishing charters that head out of Kitty Hawk if you're looking to go fishing. Don't forget to visit Kitty Hawk Woods Coastal Reserve that contains maritime woodland, swampland and marshes - it is an excellent location for hiking, fishing, birding, kayaking, and stand up paddle-boarding. The town operates on the belief that development ought to be sustainable and essentially in consonance with nature.
Kill Devil Hills - Famous for the 12 second, 120-foot, first heavier-than-air powered flight by the brothers Wright! Visit the Wright Brothers National Memorial, a national park that includes the dune where the first flight took place - the dunes themselves slowly move over time and the particular one the Wright's used was not stabilized with grass planting until 20+ years later. By the time the dune was made a memorial, it had already migrated several hundred feet south! Nowadays Kill Devil Hills welcomes thrill seekers looking to enjoy some great waves and water-sports and dune surfers on its many public beaches and huge dunes. There is also great fishing at the Avalon Fishing Pier. Don't leave before heading to the Outer Banks Brewing Station, America's first wind powered brewery!
Nags Head - Nags Head is a quiet town with a thriving arts community and a relaxed pace of life, perfect for family getaways. You can stay in a beach house (like those to the left) or in a historic cottage right across from Jockey's Ridge State Park, the United States tallest natural sand dune system. There are public beaches, the longest public pier in the state, Jennette's Pier (pictured above with a popular sight, a surfer), and two public fishing piers for avid fishermen: Nags Head Fishing Pier and Outer Banks Fishing Pier. Divers have to head to the Outer Banks Dive Center. Known as the "graveyard of the Atlantic" due to the hundreds of shipwrecks just off the coast, the Outer Banks is a huge favorite for divers, spear fishermen and underwater photographers. The best golf course on the banks is Nags Head Golf Links, having earned itself a fine 4.5 stars from Golf Digest.
Roanoke Island
Roanoke Island is perched between the North Carolina mainland to the west and the barrier islands to the east. Plenty of hotels, motels, bed and breakfasts, and private cottages are available to keep you comfortable! The town of Manteo and Village of Wanchese make up Roanoke Island and both locales are made to experience on foot with excellent boardwalks, waterfront shops and outdoor dining. Roanoke Island was the site of the first English settlement in what would eventually become the United States. Known now as The Lost Colony, the members of that settlement abruptly disappeared 3 years after their arrival and the mystery inspired the outdoor play of the same name that has been running in Manteo's outdoor Waterside Theater since 1937!
Manteo - Visiting Manteo is like stepping back in time in the most awesome way possible! There are charming brick streets lined with small one-of-a-kind stores, pristine landscaped gardens at the Elizabethan Gardens, and the famous Roanoke Island Festival Park features a very cool replica of a 16th century ship, the Elizabeth II. Learn the history of family fishing charters who have fished through generations, visit the Roanoke Island Maritime Center where you can take in the majesty of the Roanoke Marshes Lighthouse, and don't forget to check out some Kill Devil Hills Rum, the Outer Banks only distillery.
Wanchese - The Village of Wanchese is at the southernmost end of Roanoke Island and is known to be a calm, quiet and idyllic fishing village. Its rich fishing history makes it a great place to charter a fishing vessel from the Wanchese Marina and spend the day on the water with people who really know their stuff. It also makes it an awesome place to gorge yourself on fresh seafood! Exceedingly close to Manteo you'll be able to experience all that they have to offer as well.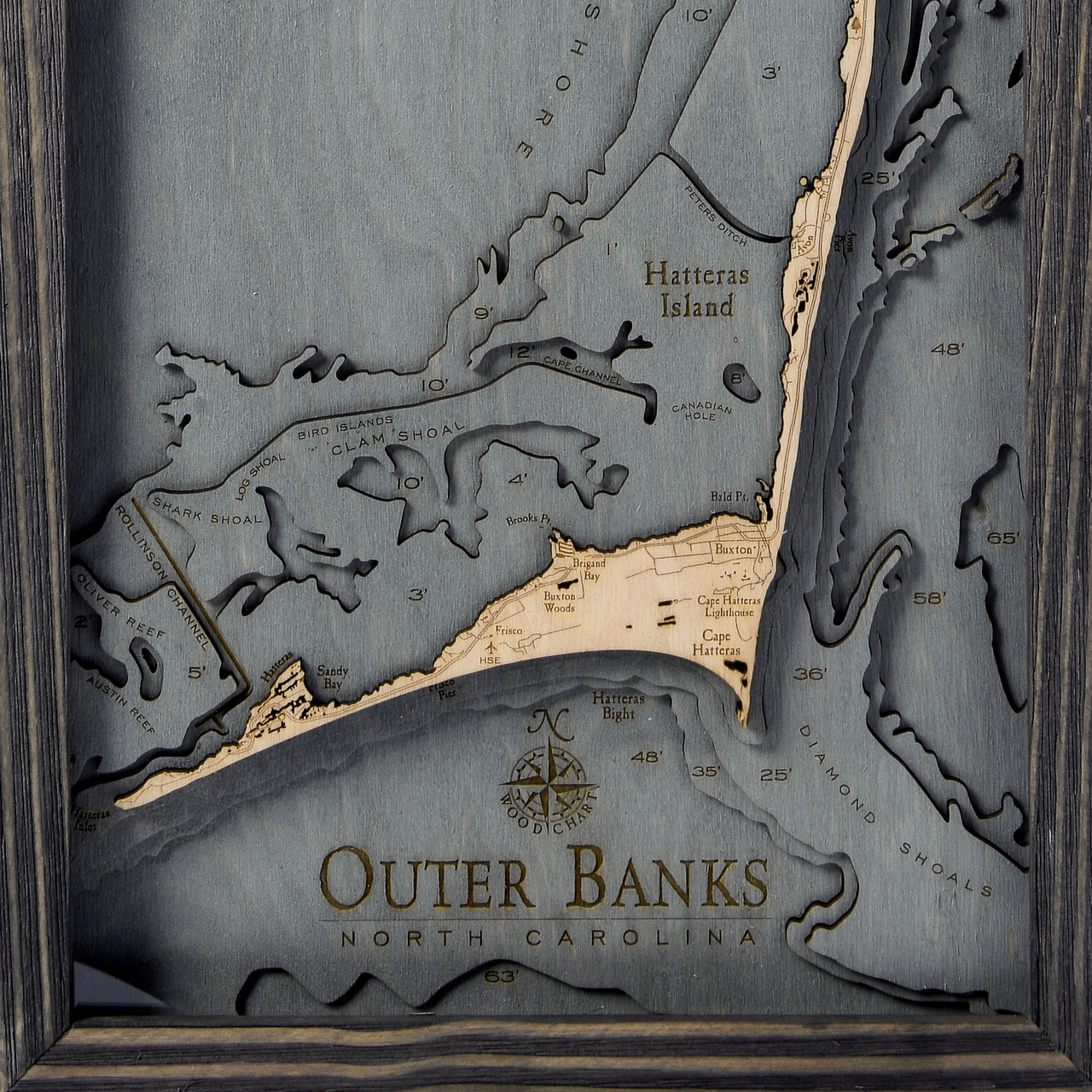 Hatteras Island
Hatteras Island extends almost half of the entire length of the Outer Banks themselves. Composed of seven small villages, the island is punctuated by incredible untouched beach landscapes, miles and miles of natural beaches, soft dunescapes and signature sea oats that bristle in the Atlantic breeze. Hatteras is the most remote and quiet of all the islands and provides the best opportunities for camping if you are looking to rough it a little bit. The entire island is part of the Cape Hatteras National Seashore, meaning that the land is protected and can never be developed.
Rodanthe - Rodanthe was originally called Chicamacomico, but its name was changed in the late 1800s. Though just a tiny village there's a lot to see and do. There is fishing off the Rodanthe Pier, kitesurfing spots, and you can pay a visit to the Chicamacomico Lifesaving Station, created to save sailors of the coast that would become the foundation to the modern day Coast Guard. The 2008 Richard Gere and Diane Lane film Nights in Rodanthe was filmed in the village and thousands of visitors still flock to see the house from the film. You'll also find yourself close to Pea Island National Wildlife Refuge, a huge treat for nature lovers and birders.
Waves - The name of this village really says it all! Waves is all about water sports with miles of beaches to play in; go surfing, kiteboarding, kitesurfing, stand up paddle-boarding, all of the above! Beach cottages and condos dot the beachfront for just about the easiest beach commute you can imagine.
Salvo - Salvo is extremely small and private. There isn't much to it but for the many available vacation rentals that offer a quiet place to enjoy sleepy beaches and some peaceful time with your family.
Avon - The so-called "Center of Hatteras," Avon is where you'll find the Outer Banks only chain supermarket, hardware store, local pharmacy and a medical center. Avon Pier is the most popular destination in the village, calling on anglers to chase big game fish! As with much of Hatteras Island, the beaches are plentiful and prime for water sports.
Buxton - Home to the Cape Hatteras Lighthouse (pictured herejen), drawing over a million visitors a year on its own! Buxton is also home to Cape Point, an enormous sandbar stretching out into the Atlantic that is nationally known, it's immense popularity often forcing fishermen to cast standing almost elbow to elbow! You can also surf fish, which sounds like a good time. Meanwhile, away from the water, hikers will enjoy Buxton Woods that allow you to camp, hike and explore intricate trails, and catch a glimpse of the areas protected white-tail deer.
Frisco - The Frisco Native American Museum celebrates and features room after room of local Native American artifacts and educational exhibits. An ancient Native American village has actually been unearthed close to the grounds of the museum and is being excavated. Frisco is also home to the only go-kart track on the OBX and they have an 18-hole miniature golf course, great for families!
Hatteras - Get a comprehensive view into the centuries-old relationship that Hatteras Island has with its ocean faring past at the Graveyard of the Atlantic Museum. It houses the First Order Fresnel Light, the original lens that once shone at the top of the Cape Hatteras Lighthouse. It honors US Lifesaving Service crews, including the first all-black rescue crew and documents centuries of shipwrecks, hurricanes, and other important maritime events in the area. There are wonderful campgrounds in Hatteras, as well as several vacation rental opportunities. You can also catch a ferry to nearby Ocracoke Island that is only reachable by boat or plane.
Pamlico Sound
We can't forget to highlight Pamlico Sound which extends from the Atlantic Coast of North Carolina to the eastern banks of the Outer Banks islands. It is the largest lagoon on the East Coast and is nationally known for its awesome water sports, fishing, sailing, kayaking, stand up paddle-boarding, and so much more. It has flourishing ecosystems and diverse habitats, which makes it a rich place for nature lovers and keen birders.
The great thing about the Outer Banks and their diverse and historic towns and villages is that they are all close enough to one another that you needn't pick just one, you can enjoy them all! This is the dream locale for those looking to enjoy incredible beaches, mom and pop shops, a relaxed atmosphere, exciting water sports and good old family-friendly fun. We're confident that you'll love it there as much as we do, and after you experience all they have to offer, why not pick up our map of the Outer Banks to remember the fun forever!