Menu
5 Reasons Why You Should Buy a Wood Map for Your Cabin
A wood map goes beyond the typical charm of having a map in your cabin because of the enhanced depth and intricacy afforded by this unique artistic style. Our maps are etched with precision laser cutters and then refined by expert handwork. A map from Nautical Wood Maps gives your guests something interesting and engaging to look at. You can pick a map of your favorite region or an area that has some historical importance to you.
The Craftsmanship of a Wood Map
To craft a beautiful wood map, artists start with a solid piece of hardwood. Because each piece of wood is unique, no two maps are the same. For example, see the example below here of the Sanibel Island map. The natural wood grain comes through and adds subtle unique details. Whichever map is going to be created, it is loaded into a computer-controlled router and rough-cut to precision detail. Laser-cutting the map leads to perfect topographical accuracy, so you can see the rises and falls of mountains and valleys. The final product is oiled and sanded to create a perfectly smooth texture that adds more character and personality to your piece.

Nautical Wood Maps Go Above and Beyond
Our maps at Nautical Wood Maps go above and beyond the industry standard techniques described above. This is because all of our maps are designed by professional cartographers who use a combination of satellite images and bathymetric charts to study the are to be mapped before they even start on the piece. Through this process, our cartographers decide what part of the map to include to make it more interesting. Some of our maps weren't put into production until the manufacturer was able to examine and compare six different maps to create a finished product that includes the best elements of each.
The oceans in our maps are rich with the details of channels, harbors, islands, and depths. You can see minor and major thoroughfares on the landmasses in addition to state parks, towns, and cities. Before it is delivered to you, a nautical wood map is assembled by hand. We stain each piece of wood that represents bodies of water in a deep blue shade while leaving landmasses in the natural color of the Baltic Birch that is used to make every map. The laser-cutters used are state-of-the-art, and we finish each map by framing it with solid wood.

Hear the Stories of Your Guests
A wood map also makes a great conversation piece. When someone who has experience traveling in the area featured on your map comes over, they will be so moved that they must share their amazing stories with you. This is the experience we have had in our New Orleans stores, where seamen sometimes come in to look at our maps and find themselves compelled to share their nautical adventures. Our New Orleans stores have been filled with the rich and exciting tales of cruise ship goers and captains of riverboats, steamboats, and shrimp boats.
Reflect on Your Love for a Region
When you open up some images from an internet search of a place you once visited or lived, you can get some new perspectives on a place you love, but it never compares to going back. Looking over your own photos may have a bit more nostalgic value, but you're not seeing anything new. Nautical wood maps are different because you will get to see your favorite places in a new light. Learn surprising and thought-provoking details about the region you have come to love. Gain a familiarity with the depths and currents of the featured body of water that you would normally only be able to experience through a prolonged scuba-diving trip.
Get a Great Wood Map Gift
If you already have a wood map in your cabin, you may end up having some friends who are so enthralled that they want maps of their own. It may also be that you have a friend who loves a specific region or who just really appreciates wood-working or cartography. Nautical wood maps make amazing gifts for any of these people. If you really want to treat someone, offer them a gift of refinement and detail to show them how important they are in your thoughts.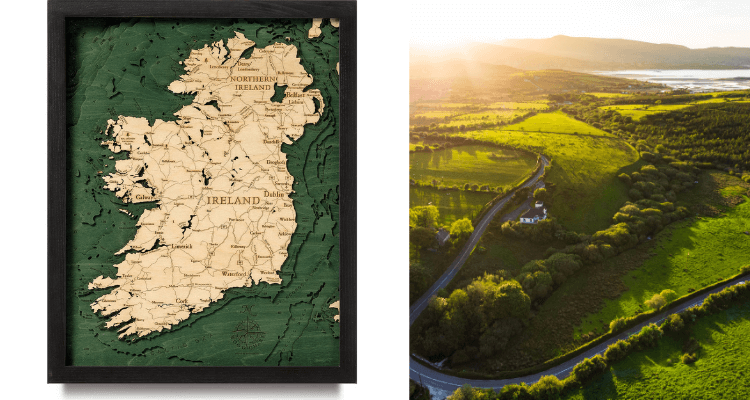 Reflecting On Some of Our Favorite Maps
Our maps continue to excite and delight people from many different backgrounds. One of the most popular ones is our map of North America's largest estuary, Chesapeake Bay. This massive drainage basin covers parts of six U.S. states stretching from Maryland in the north to Virginia in the south. Our map shows detailed renditions of the over 150 major streams and rivers that feed into this 64,299 square mile basin. Some of the details featured on this map include Wye Island, St. Charles, Tar Bay, Rhode River, Seaford, Occoquan Creek, Lexington Park, Magothy River, Fruitland, Gunpowder River, Crofton, E. Neck Island, Alexandria, and the Annemessex River.
Our wood map of Ireland is favored among nautical enthusiasts because it does not only feature the topography and details of the island itself but also provides an in-depth look at the surrounding ocean and all of the bathymetric features contained within. Ireland's rolling hillsides tend to stay lush and green thanks to its abundant rainfall and mild climate. When you look at this map, you will get a real vivid three-dimensional picture of the thick woods, navigable rivers, lush vegetation, central plain, and low-lying mountains. St. George's Channel, the Irish Sea, and the North Channel separate Ireland from Great Britain. In addition to these prevailing features, some of the finer details you can enjoy on our Ireland map include Tory Island, Waterford Harbour, Sligo, Newton Abbey, River Bann, River Slaney, Loughrea, Killala Bay, Lambay Island, Enniskillen, Giant's Causeway, Drogheda, Athlone, Blackwater Bank, County River, and Carrickfergus.
We Know Sea-Lovers
We know what sea-lovers crave because our family has had a shop on the island of St. Armands Circle for over 25 years. Whether you are a vacationer, beach-lover, or sailor, you are sure to find something in our collection that fits your tastes. Call us at 941-388-7754 today to ask about what we are presently featuring in our gallery.
Wood Chart Maps Wall Art Lakes for Log Cabin | Nautical Wood Maps